RUNXIN's manual multiport filter valve is a filter backwash valve and acts as an economic substitute for automatic filter valves. The valve core uses aluminum oxide ceramic instead of metal, thus preventing leaks. The filter multiport valve is used in a wide array of filtration fields, including reverse osmosis pre-treatment, swimming pool filtration, and wastewater treatment.
Features
The multiport filter valve is designed with 3 flows that achieves service, backwash, and a fast rinse.
The water filtration is easily carried out through manual operation.
The valve body is made using ABS plastic reinforced with 10% glass fiber, which is leak resistant, heat resistant, and flame retardant.
If you are looking for a source of high-quality control valves, Runxin is your ideal choice. For nearly 2 decades, RUNXIN has been providing customers with a full catalog of products, including filter backwash valves, softener valves, cabinet water softeners, and ball valves. Noted as one of the industry's premier manufacturers, RUNXIN offers more than 100 types of control valves to meet your needs no matter what. Our products are widely applied in industries such as water treatment, chemical engineering, medical treatment, and food processing. Contact us today to learn more!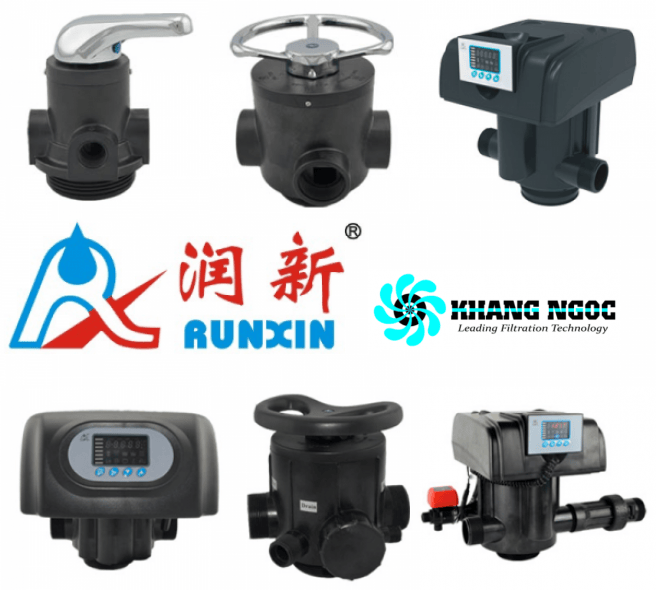 Download – Catalogues
| Brand | Model | Description | Catalogue |
| --- | --- | --- | --- |
| RUNXIN | F56D | Manual Filter Valve | |
| RUNXIN | F56A | Manual Filter Valve | |
| RUNXIN | F63B1 | Automatic Softener Valve | |
| RUNXIN | F64A | Manual Softener Valve | |
| RUNXIN | F64D | Manual Softener Valve | |
| RUNXIN | F65B1 | Automatic Softener Valve | |
| RUNXIN | F67B1 | Automatic Filter Valve | |
| RUNXIN | F74B1 | Automatic Filter Valve | |
| RUNXIN | F74B1 | Automatic Softener Valve | |
| RUNXIN | F75B1 | Automatic Filter Valve | |
| RUNXIN | F77A1 | Automatic Softener Valve | |
| RUNXIN | F77B1 | Automatic Filter Valve | |
| RUNXIN | F95A1 | Automatic Softener Valve | |
| RUNXIN | F96A1 | Automatic Softener Valve | |
| RUNXIN | F96B1 | Automatic Filter Valve | |
| RUNXIN | F111A1 | Automatic Softener Valve | |
| RUNXIN | F111B1 | Automatic Filter Valve | |
| RUNXIN | F112A1 | Automatic Softener Valve | |
| RUNXIN | F112B1 | Automatic Filter Valve | |
EXPLORE THE POSSIBILITIES
Start today with your project