All kinds of popular filter media
• FIlter sand
• Anthracite carbon
• Acrivated carbon
• Iron removal/manganese/As
• Filter Gravel
• Ion exchange resin
A. Filter sand
Characteristics: white, high uniformity
Usage: filter solid in water
Life time: at least 2-3 years should be replaced, often wash back with clean water
Unit: kg / ton
Density: 1.4 kg / liter – 1.55kg / liter
Packing: 50 kg / bag (standard), 25 kg / bag 10 kg / bag
Available sizes
1. Sand filter: 0.2 – 0.4mm
2. Sand filter: 0.4 – 0.9mm
3. Filter sand: 0.9 – 1.35mm
4. Sand filter: 0.8 – 1.2mm
5. Sand filter: 1.2 – 2.0mm
6. Sand filter: 2 – 4mm
7. Gravel filter: 4 – 6mm
8. Gravel filter: 6 – 8mm
9. Gravel filter: 8 – 12mm
12. Gravel: 12 – 20mm
13. Gravel filter: 20 – 30mm
In water filtration, the common sand sizes are 0.8-1.2mm and 1-2mm. Common support gravel sizes are 4-6mm and 6-8mm
1. Introduction:
– Made in Vietnam.
– Usage: remove impurities suspended in water.
2. Technical features:
– Particle size: 1.5 – 3.5mm; 0.7 – 1.2mm
– Weight: 700 – 800 kg / m3 (depending on size)
– Porosity: greater than 45%
– Basic chemical composition: carbon 92%
– Black, dry, angular seeds.
3. Advantages:
Due to its large sediment storage capacity, it is suitable for treating water with high turbidity. Increase filtration cycle.
– Can be used together with sand in existing filter tanks without changing the tank / tank structure.
4. Scope of application:
– Can be used in graviry filter tanks or pressure filters tank. Filter direction from top to bottom.
5. Recommended use:
– Combine with filter sand to remove impurities suspended in water.
– The minimum thickness of the coal layer is 0.40 – 0.45 m.
– Immediately after changing the filter material layer, it is necessary to wash back to remove the coal dust.
– Wash and filter: backwash when the filter cycle ends. Washing water intensity is 10 – 12 l / s.m2. Washing time 10 – 15 minutes.
– Need to wash before using.
C. Activated carbon – VN
– Made in Vietnam from coconut shell charcoal by the method of activation at a temperature of 900 – 1.0000C.
Uses: deodorizing, odor, heavy metals, organic compounds, pesticides.
2. Technical features:
– Particle size: 1.68 – 3.36 mm (mesh size 6 – 12); 2.36 – 4.76 mm (mesh size 4 – 8)
– Density: 520 – 550 kg / m3
– Black, dry, loose, angular seeds.
– The basic targets:
Basic indicators:
– Iodine index: 650 – 850mg / g
– Adsorption CCl4: 40 – 60%
– Benzene: 23 – 33%
– Methylene Blue: 130 – 170ml / g
– Hardness index:> = 95%
– Ash degree: 2-5%
– Humidity: = <6%
– pH: 7-8
3. Advantages:
– This product is cheap compared to imported goods, has high quality standards, can be used in water treatment projects and wastewater.
– Usage time depends on the amount of poison to be treated.
4. Scope of application:
– Deodorization, odor, heavy metals, pesticides, organic compounds.
5. Recommended use:
– Filtering speed depends on the type of poison on water. For example, reducing residual chlorine content – 40 m / hour; reduction of organic compounds – 6 m / hour.
– The thickness of the coal layer is 0.7 – 0.9 m.
– Sometimes it is necessary to carry out backwashing to disturb and redistribute the coal layer.
– Need to wash before using.
D. Birm Clack USA seeds demineralized
Birm is an iron-reducing material widely used in water filtration systems with the ability to remove iron content, remove precipitates and easily clean impurities in water. In particular, the Birm is known for its stable structure in the reaction of iron that is difficult to dissolve, very safe and has a long lifespan.
Scientists have been looking for a lot of natural materials that can remove iron and alum from water such as manganese sand … and Birm is one of those types.
The iron reduction Birm is one of the most economical and effective filtration solutions available today.
Iron is one of the heavy metals that normally exists in water, which will have extremely serious consequences when we use them for a long time. The human body cannot absorb and remove heavy metals by itself, leading to a number of diseases such as kidney stones, cancer …. is inevitable.
Main uses of Birm
Birm seeds act as a catalyst between dissolved iron and oxygen compounds that enhance Fe ++ oxidation reactions to Fe +++ and produce precipitated iron hydroxide to completely remove iron from groundwater.
Birm water treatment seeds are also used to reduce manganese in water. Water with a pH between 8.0 – 9.0 gives the best results when reducing manganese with Birm seeds. Water after being removed both manganese and iron will have a Ph below 8.5.
Specifications of Birm
Product's name: Birm Clack USA Nuts
Product code: A8006
Characteristics: Black, hard, dry, angular granules,
Density: 740 – 720.
Particle size: 10 x 40 mesh (0.4 – 2.0 mm)
Effective size: 0.48 mm
Specific gravity: 2.0 gm / cc
Uniformity coefficient: 2.7
Temperature range (0C): 38
Packing: 18.5 kg bag
Origin: Clack Corparation – USA
Uses: Reducing iron and manganese, used in water treatment
Shelf life: Long service life, low wear. Periodically backwash, wash down with clean water without regeneration
Why use Birm seeds to remove iron in water?
-Good ability to filter alum and manganese thanks to high catalytic efficiency
-Protect the environment when not using chemicals for the recycling of materials.
-Ease of use: direct use of particles in the filtration process
-Regular cleaning is not required as the precipitate will be removed during backwash.
-Low consumption makes the life of the birm extended
-Can be used in pressure or gravity water treatment systems because the wide temperature range makes it highly efficient and efficient.
-Cost savings when not being consumed during use as other filter materials
E. Ionic resin – Purolite
Product Description
Purotlite cationic particles As water softening ion exchange particles, they separate heavy metal ions present in daily water sources by ion exchange method with strong alkali metals, widely used in treatment industry water management.
Outstanding features of Purolite cationic seeds
Purolite C-100 is a high-yield spherical ion exchange resin, made of a sodium-containing synthetic material, a common chemical used for industrial water purification equipment and civil.
Purolite C-100 cation particles separate water hardness ions such as Ca2 +, Mg2 + by replacing them with Na + ions.
Purolite C-100 is a strong acid ion exchange resin with a gel structure (Gel type). Is a copolymer resin derived from Styren-divynylbenzene with a sulfonic acid function group.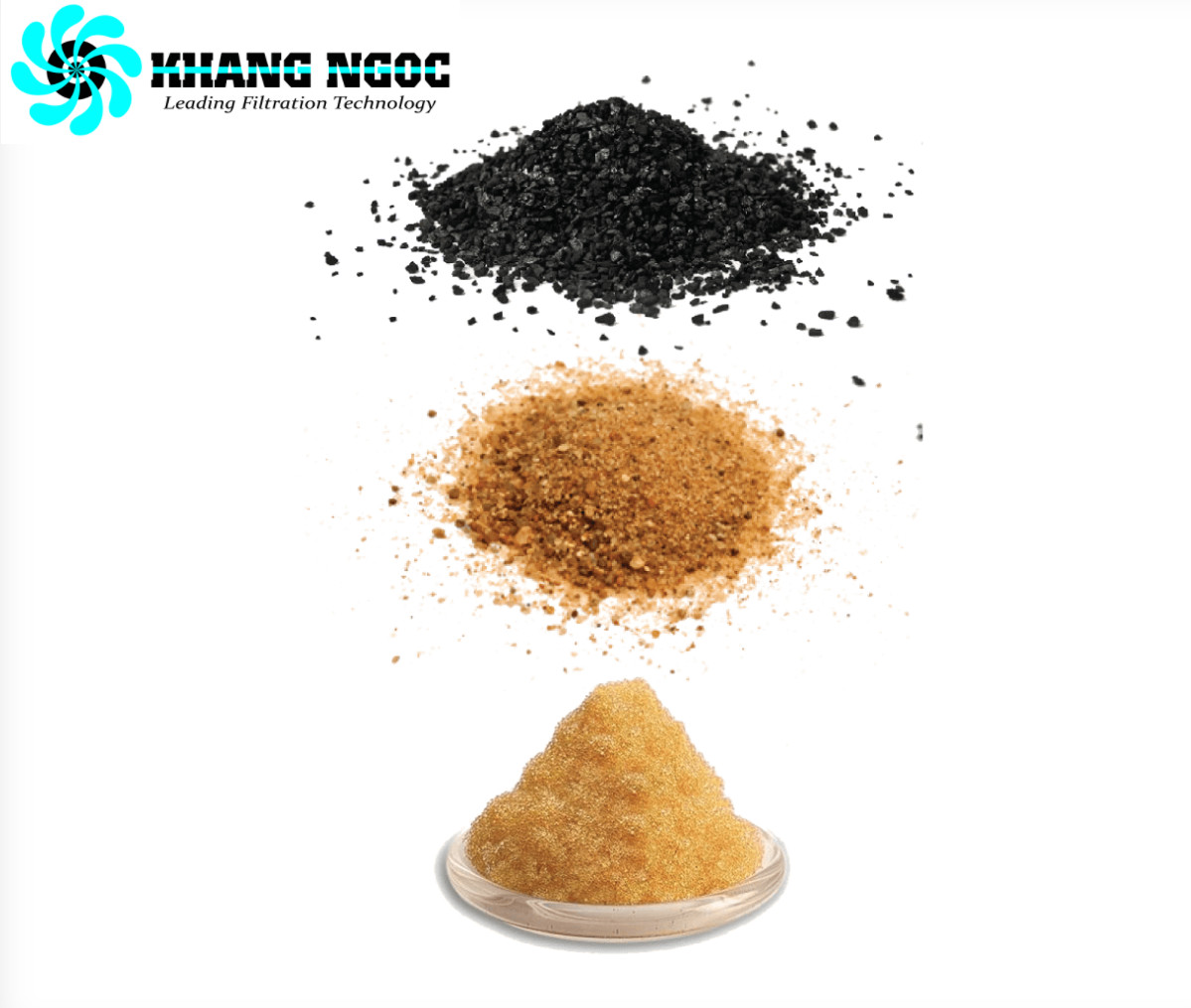 Liên hệ
Download – Catalogues
| Brand | Desciption | Catalogue |
| --- | --- | --- |
| Birm – Clack | Iron, Hydrogen Sulphide, Manganese Removal | |
| Purolite | C100 | |
| Purolite | C100E | |
| Anthracite Coal | KNA1-2; KNA2-4; KNA3-5 (mm) | |
| Filter Gravel | KNG3-5; KNG4-8; KNG5-10; KNG6-12; KNG10-20; KNG20-30 (mm) | |
| Quartz sand | KNS0.4-0.6; KNS0.6-0.8; KNS0.8-1.2; KNS1.0-2.0; KNS2.0-4.0 (mm) | |
EXPLORE THE POSSIBILITIES
Start today with your project